Debra McLean says a new program at the Winchester District Memorial Hospital (WDMH) has made waiting to be treated in the Emergency Room less stressful. 
McLean, the Co-Chair of the hospital's Patient and Family Engagement Committee, is leading a volunteer program at the hospital where she and her two therapy dogs, Ceilidh and Annie, spend time with patients who are waiting.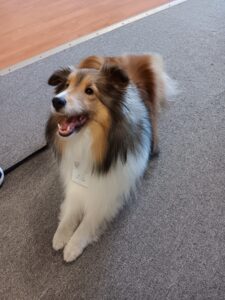 "I introduce myself and I introduce the dogs, and I let them know that they're part of the Pet Therapy program at the hospital, and then the individual I'm speaking with will then start to tell me the story of their situation," McLean says. "I do not ask questions that are really difficult questions, I just let them know that I'm there to listen." 
A retired nurse, McLean also helps patients sometimes if they need water or special accommodation, like a place to lie down if sitting in the waiting room's chairs is painful or uncomfortable. 
"The reaction and response from the patients has been phenomenal," McLean says. "Truly. It's all positive. They're very, very grateful. They thank me whenever it's time for me to leave, they're thanking me, they're thanking the dogs. Some people want to take my dog's home." 
McLean says she wants to recruit new volunteers for the program. "What we're looking for for this specific team is retired healthcare professionals," she explains. "So, registered nurses, social workers, counsellors. People who have that background in the medical field."\
McLean is also thanking Shannon Horsburgh, the Charge Nurse for the hospital's Emergency Department, for her help with the program. She says it wouldn't be possible without Horsburgh's help and support since the program began earlier this year. 
If you're interested in taking part, you can email McLean to learn more.