There's still lots of concern and uncertainty following a special council meeting this week on the proposed prison in Kemptville.
The meeting was held Tuesday, and allowed members from the public, including the Jail Opposition Group (JOG), and the Coalition Against the Proposed Prison (CAPP), to give their thoughts to council and present arguments against the Eastern Ontario Correctional Complex. 
CAPP Spokesperson Victor Lachance says it was a good turnout from the public, but they still feel no closer to having answers than they did back in November, when the province first approved the project. 
"I was embarrassed to watch our council just wave the white flag and surrender to the heavy hand of the provincial government," Lachance said. "The council is not representing North Grenville residents, they're really representing the interests of the Ford Government." 
Lachance adds all they are asking is for council to say where it stands on the prison, and also to push MPP Steve Clark, and Solicitor General Sylvia Jones to answer CAPP's questions. 
However, Mayor Nancy Peckford says while it's important to allow these opposition groups to air their concerns, there's no indication from the province that the project will be cancelled. 
"The Ministry is very well along in its planning," Peckford said. "And it is absolutely council's job to get the answers we need so that if and when the facility comes, it is generally a positive development in our community and not a negative one." 
Peckford says at the end of the day, all the municipality can do is act as a conduit for the community to the province. 
"The reality is, this is provincial land," she said. "It's been part of the province's holdings for decades now. So, with that in mind, some of the questions being asked will take time to answer. This is a facility that is projected for 2027."
Clark Says Answers Will Come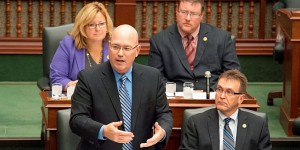 In an interview with MPP Steve Clark, the Minister said he had an opportunity to tune into the latter part of the forum and gained lots of perspective.
Clark says prior to budget talks this week, he had a discussion with the Solicitor General, and he was assured that all concerns and questions would be answered in due time. 
However, there's no timeline for when that might be.
"I managed to have a chat with her before the budget and after it was presented," Clark said. "She assured me that the Ministry takes our concerns and comments seriously, and as the local MPP, I'm going to ensure people get answers to those questions." 
In the meantime, CAPP has begun a GoFundMe which seeks to raise funds so the group can mail letters to 6,400 residents and businesses in the community to let them know how they can speak out against the plan.