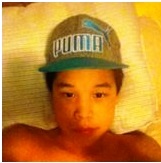 UPDATED: Police report Walter Hikolak has been located, safe and sound.
Original:
Ottawa Police is asking for help finding a missing boy. Fourteen-year-old Walter Hikolak was last seen the afternoon of February 21st, at the Rideau Centre. He is described as Aboriginal, five foot five inches tall, 119 lbs with a medium build, brown eyes, brown hair and dark skin tone. Walter's family is concerned for his well-being.
If you know where Walter Hikolak currently is, please immediately contact Ottawa Police Dispatch at 613-230-6211. If you have information that could assist investigators, but do not know where he is currently, please contact the Missing Persons Unit 613-236-1222, ext. 2355, between 8:00 am and 4:00 pm, daily.
Anonymous tips can be submitted by calling Crime Stoppers toll-free at 1-800-222-8477 (TIPS), or by downloading the Ottawa Police app.